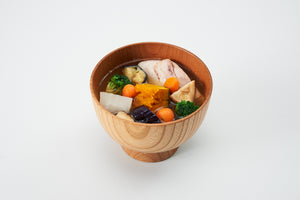 A complete meal that fills your heart.
Complete nutrition soup "MISOVATION" with 15 kinds of ingredients
Complete nutrition soup "MISOVATION" with 15 kinds of ingredients
Be healty in mind,
body and spirit
食事は、具沢山の味噌汁だけでいい
忙しい現代は、食事における悩みが多い。
自炊をするには時間がかかるし、
外食ばかりでは、ついつい栄養が偏ってしまう。
健康を意識し過ぎた食事は無機質で、継続が大変。
このままではだめだ。
「健康=我慢」をひっくり返そう。
味も、栄養も、時間も、我慢しなくていい習慣。
きっとその習慣が、未来の健康を底上げしてくれる。
手間いらずの究極の一杯で、心も身体も満たす。
新しい味噌汁体験を、今こそ世界へ。
You can get all 31 nutrients you need in one meal.
I am happy for "diet", "physical condition management" and "intestinal activity"
Contains 31 kinds of nutrients
Preserves deliciousness and nutrition by flash freezing
Instead of retort or freeze-drying, we deliver the "fresh taste" and "nutritions that are vulnerable to heat" that can be maintained by flash freezing.
We change the type of miso every month
In collaboration with miso breweries, which are said to have 1,200 stores all over Japan, we deliver different types of miso every month. Enjoy encounters with miso from all over Japan.
No extra additives
15 kinds of ingredients such as vegetables and pork are used luxuriously, and fermented foods such as miso, amazake, and dried bonito are blended in a flavorful soup stock centered on dried sardines from Chiba Prefecture. No chemical seasonings, preservatives, colorings, sweeteners, or flavors are used.
One bowl completes the meal
Approximately 400g (after cooking) per serving, this hearty soup is a staple food. Still the calorie is 250 kcal. Perfect for replacement diets. You can share the meal with your family.
Perfect as a gift
Would you like to deliver healthy miso soup with your daily gratitude? Even if you don't know the address, "e-Gift" is convenient because you can send a gift via LINE, etc.
6/28-30 Miso used for new orders
Kakukyu Hatcho Miso (Aichi)
[Category] Soybean miso [Origin] Okazaki City, Aichi Prefecture ・Only soybeans and salt are used as raw materials, miso representing Aichi ・Traditional method from the Edo period (wooden barrel / masonry / natural brewing)
・ Rich richness, a little sourness, astringency
*MISOVATION of June Miso "Ayame Miso (Niigata)" is sold out.
日本味噌について
~HOW TO EAT~
① Loosen the bag and transfer the ingredients to a heat-resistant container.
②Add 150cc of water. If you make it with soy milk or milk, it will be potage style.
③ Heat in the microwave (500W: about 6 minutes / 600W: about 5 minutes and 30 seconds).
④Mix well and serve while hot.
ABOUT
Revive Japan's declining miso industry and bring innovation to preventive medicine around the world with miso soup. MISOVATION was born from the original experience of the representative who is also a nutritionist.
It will change depending on the order date. We will deliver according to the schedule below.
If you place an order between the 1st and 10th: The product will be shipped on the 15th of the current month.
Orders placed between the 11th and 25th: Items will be shipped on the 30th of the current month.
If you place an order on the 26th or the last day of the month: The product will be shipped on the 15th of the following month.
* The delivery schedule may differ for limited-time campaign products. Please check the product page.
We are very sorry, but we do not specify the delivery date and time. The delivery company will be Yamato Transport, so if you join Kuroneko Members, you can specify the date and time up to 3 days after the above shipping date.
The shipping fee varies depending on the plan of the order and the region of the delivery destination.
Please check the list below.
There is no limit on the number of times, so you can cancel at any time. You can log in to My Page and cancel your subscription from the "Regular purchase list" screen. If you do not have an account yet, please create one here .
*Please note that we cannot accept cancellations or cancellations for the first purchase.
*If the change deadline date, which is the deadline for accepting cancellations, has passed, production has already started, so cancellations will be made from the next delivery. note that.
There is no one-time trial plan, but you can cancel or skip it at any time, so feel free to try it.
Allergens are listed below. (out of 28 items)
pork, soybeans
*This product's manufacturing factory produces products containing "milk ingredients", "wheat", "shrimp" and "peanuts".
*The sardines contained in the dried sardine powder are harvested using a fishing method that mixes "shrimp" and "crab".
MISOVATION does not use any sweeteners, preservatives, colorings, fragrances, or chemical seasonings. Please enjoy with confidence.
I would like you to incorporate 1-3 meals a week (4-12 meals a month) as a guideline for the purpose of improving your normal eating habits. It doesn't mean that you have to eat three meals a day. Rather than continuing to eat only specific foods, the best way to stay healthy is to continue to eat a well-balanced diet while incorporating a variety of foods. We are here.
When you place an order for a product, an email with the subject "Confirmation of your order | Order number: #○○○" will be automatically sent.
However, in the case of mobile carrier mail (@ezweb.ne.jp, @docomo.ne.jp, @softbank.ne.jp, etc.), it has been reported that mail is difficult to reach.
If possible, please register using PC email, or set it to receive emails from info@misovation.com.
If you do not receive the email, please follow the steps below to check your spam folder and settings.
■ For softbank (iPhone/smartphone)
1. Log in to My Softbank → [Email settings] → [Email settings (SMS/MMS)] → Tap [Set]
2. Tap [Junk mail block settings] → [Change]
3. Tap [Individual settings] → [Click here for individual settings]
4. If you do not want to receive spoofing emails, [Set/Check Relief List] → Enter [info@misovation.com] → Tap [Set]
■ For docomo (smartphone)
1. Tap [SP mode mail app] → [Other] → [Email settings] → [docomo mail setting site]
2. On the [Authentication] screen, enter the SP mode password → tap "OK"
3. Designated reception/rejection setting: If it is set to "Use settings", tap [Next]
4. Tap [Add more] for registering an e-mail address to receive from the setting of the e-mail address to receive, and enter [info@misovation.com]
5. Tap [Confirm] → [Confirm settings]
6. Execute the above even if it is set to "reject reception/strong" or "computer reception settings/rejection" in the simple settings.
For au (smartphone)
1. Access your au ID and go to the top screen of the spam filter → tap [Go to individual settings other than the above] → [Spoofing restriction avoidance list]
2. If it is set to "disabled", leave it as it is.
3. If "Valid", enter [info@misovation.com] to receive as a keyword and tap [Change]
4. Tap [OK] on the confirmation page
※厚生労働省「日本人の食事摂取基準(2020年版)」より18~49歳男女の推奨量・目標量・推定平均必要量・目安量をもとに、通常の食生活であれば不足するリスクが低いとされている熱量・脂質・炭水化物・マグネシウム・リン・マンガン・クロム・パントテン酸・ビオチンを除き、すべての栄養素で1日分の基準値の3分の1以上を含む